Deloitte: Digitally Innovative Manufacturing Consultants
2 min
Deloitte ranked first in our Top 10 Digital Manufacturing Consultants in Manufacturing Global's July Magazine, we take a closer look at the firm...
Deloitte is a leading research and advisory firm with over 150 years of hard work and commitment to making a real difference. The organisation has grown in scale and diversity, with over 245,000 people in 150 countries and territories providing audit and assurance, task, legal, risk and financial advisory and consulting services.
Manufacturing
In Delitte's study "", Deloitte looked at the influence of smart factories in the industry. As part of the research paper, Deloitte conducted more than 40 qualitative interviews with a global array of manufacturing leaders, staff, and professional services providers with hands-on experience of smart factory transformations across diverse industries such as chemicals, paper, aerospace, plastics, consumer products, and life sciences and health care.
Its findings showed that the strategic importance of smart factories is clear, as early adopters have reported operating more efficiently and driving more to the bottom line. In the US alone, 86% of manufacturers believe that smart factories will be the main driver of competition by 2025. In addition, 83% believe that smart factories will transform the way products are made. Research consistently reveals improvements in cost, throughput, quality, safety, and revenue growth through the deployment of smart factory technologies that make up capabilities in industrial internet of things (IIoT), cloud and edge computing, robotic process automation (RPA), artificial intelligence (AI) and machine learning.
In Deloitte's research, several common themes emerged. Some are the same that emerge in any transformation, those related to culture and change management and rooted in the notion that transformation is only as successful as the people who embrace it. Others are far more specific and unique to the smart factory and its technologies, and can be critical considerations that leaders should address.
Check out Deloitte's full report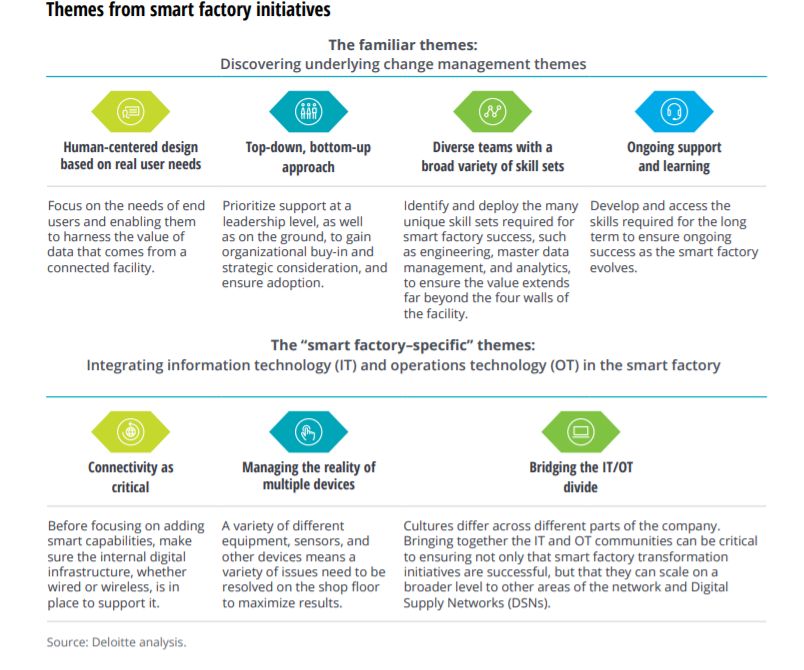 Interested in who else made our Top 10? Click here!
IHS Markit/CIPS: UK Manufacturing PMI near-record high
3 min
Latest IHS Markit/CIPS UK Manufacturing PMI statistics report a near-record high in April, despite the sector continuing to face supply chain disruption...
Riding on the momentum of which saw the fastest output growth since late-2020, / reports a further acceleration in the rate of expansion in the UK manufacturing sector for .
UK manufacturing trends
For the UK manufacturing sector, growth of output and new orders were both reported by IHS Markit and CIPS as among the best seen over the past seven years, which in turn has led to a strong increase in employment. Despite this, the sector continues to face supply chain delays and input shortages, which resulted in increased purchasing costs and record selling price inflation.
UK Manufacturing IHS Markit/CIPS Purchasing Managers' Index® (PMI®)
Seasonally adjusted, IHS Markit/CIPS Purchasing Managers' Index® (PMI®) rose to 60.9 in April, which was an increase compared to March (58.9) and above the estimated 60.7 for April.
Increasing for the eleventh consecutive month, the latest readings are the highest since July 1994 (61.0). The output growth for April has been attributed to the loosening of lockdown restrictions, improving demands and a rise in backlogged work.
"The manufacturing sector was flooded with optimism in April as the PMI rose to its highest level since July 1994, bolstered by strong levels of new orders and the end of lockdown restrictions opened the gates to business. It was primarily the home market that fuelled this upsurge in activity though more work from the US, Europe and China demonstrated there were also improvements in the global economy. This boom largely benefited corporates as output growth at small-scale producers continued to lag behind," said Duncan Brock, Group Director at the Chartered Institute of Procurement & Supply.
In addition to expanding production, total new orders rose for its third consecutive month, which was attributed to a revival of domestic market conditions, stronger client confidence, parts of the economy reopening and improving global market conditions.
While new exports rose in April, the rate was reported as weaker in comparison to new orders. "Companies reported improved new work intakes from several trading partners, including mainland Europe, the US, China and South-East Asia. Large-sized manufacturers saw a substantial expansion in new export order intakes, compared to only a marginal rise at small-sized firms," said IHS Markit/CIPS.
UK Manufacturing's outlook
Remaining positive at the start of the second quarter, 66% of companies forecast that output will be higher in a year's time, which is attributed to expectations for less disruption related to COVID-19 and Brexit, economic recovery, improved client confidence and new product launches.
"Further loosening of COVID-19 restrictions at home and abroad led to another marked growth spurt at UK factories. The headline PMI rose to a near 27-year high, as output and new orders expanded at increased rates. The outlook for the sector is also increasingly positive, with two-thirds of manufacturers expecting output to be higher in one year's time. Export growth remains relatively subdued, however, as small manufacturers struggle to export," said Rob Dobson, Director at IHS Markit.
Adding to comments from IHS Markit and CIPS, , Managing Director of Freight and Logistics at Accenture Global said: "While today's figures are positive overall, the worsening supply situation is still a concern, with rates of both input costs and selling price inflation running far above anything previously seen. Shipping delays and material shortages are driving huge backlogs of uncompleted work and the surge in manufacturing orders is leading to many firms struggling to boost operating capacity to keep up with demand. With business expectations becoming even more optimistic as the economy rebounds, the big question will be whether firms will be able to cope with the surging inflows of new orders.
"As ongoing supply chain issues are still at large, companies with wide international footprints should look to reassess their logistics strategies by running supply chain stress tests and simulations in order to respond quickly to upswings and variability in demand. A flexible and resilient supply chain will be a key way for businesses to remain both competitive and stable as we emerge from the pandemic"